I have abs of steel but I am a sit-up free zone. I don't think sit-ups are useless, but I do think there are better exercises out there so I don't bother with sit-ups in my own workouts.
So what are these better exercises? Well, anything that involves working to maintain your balance is brilliant for training your whole core, not just the abs. Personal Trainers in gyms might give you some balances to do on a wobbly board or a swiss ball, which do the trick, but my favourite exercise is handstands.
Much more fun than a wobbly board and can be done anywhere – in the garden, on the beach, in the lounge. I discovered how effective they were when I took up breakdancing in my late twenties and spent a lot of time balancing upside down on my hands in various funky shapes. My core became extremely strong!
And if you are really tough, you can work up to handstand push-ups, which works core and shoulders very well. The Crossfit London site has a guide on how to master the handstand push-up showing the different stages of progression.
Another very effective exercise is plank. Plank comes from yoga and is very popular. Most people do it for 30 seconds or 1 minute.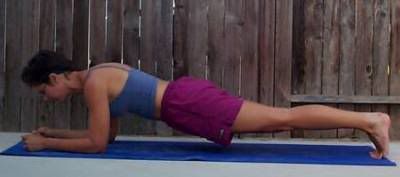 This is fine when you first start, but to get greater benefits from it you need to do it for as long as possible. Once you get past the two minute-mark, your core really starts to get strong.
My record is 4 mins 10 seconds, but it took me a while to work up to that. When I was at 2 minutes, it just didn't seem possible to get to 3 or 4 minutes. But you add a few seconds every time you try it and it soon adds up. Some of the guys over at Warrior Training and Ross Training have reached 5 minutes or above! It's hard work – your limbs are shaking and the sweat is pouring off you. But it is really effective.
What's your favourite core exercise?