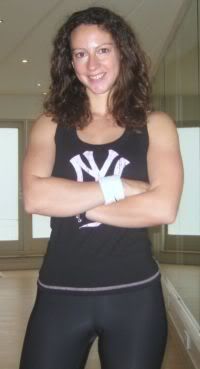 Like most people, when I first joined a gym (almost ten years ago) I was given a programme that included some aerobic and some resistance work, mostly on machines or with pink dumbbells. The free weights were a complete mystery to me and I took no notice of them.
After a while, I started going to a new Body Pump class that had started up. At the time, this was a new concept. I thought it looked quite cool, using barbells and stuff! I'd always liked the idea of being strong – it went with being an independent type of woman. At this stage I wasn't fully aware of the health and aesthetic benefits of weights, but I found that I was getting stronger, looking fitter and really enjoying what we were doing in Body Pump class.
However, it wasn't long before I wanted to lift much heavier weights. I was getting bored doing endless reps with a 20-pound barbell, no matter how upbeat the music. I knew that lifting relatively light weights week after week was no longer bringing me much benefit and I wanted to see just how far I could really go. Lifting weights does bring out your competitive streak.
But the gym I belonged to had little in the way of free weights equipment. There were no barbells or weight plates other than the light ones used for Body Pump, no squat rack or power rack. So I left that gym and found another one that had the equipment I wanted to use. The first time I got my hands on an Olympic bar I thought, "This is more like it!" I started with an empty bar (which weighs 20kg) and within three months I was squatting the equivalent of my own bodyweight (60kg).
Even at the new gym, where there was proper free weights equipment, I had to insist that the fitness instructor include them in my induction programme. Had he been left to his own devices, he would never have included olympic bars and weights in my routine.
Body Pump had given me a basic grasp of the technique involved in the power lifts and the odd olympic lift (they use clean and press a lot). In addition, I started to buy men's magazines for the free weights articles and workouts and also do my own research on the internet.
Finding the Stumptuous website was a real boost – at last a proper weight training website geared towards women. It is straight talking, clever and ungirly, which is why it is probably read by a fair number of men as well as women.
I've since gone on to increase my knowledge by sharing tips and advice with fellow gym-goers, both online and offline, bought books on weight training technique and attended workshops on different aspects of weight training.
If you've never done weight training before, especially with free weights, it can all look a bit intimidating. But weight training is easy to learn and you make progress quickly when you first start. Classes that utilise light weights and high reps like Body Pump are definitely a good introduction to working with weights but it is well worth progressing beyond the class and taking that technique into the weights room.
Recommended sites:
Stumptuous – women's weight training
Crossfit – utilises olympic lifts, gymnastics and bodyweight exercises
Testosterone Nation – bodybuilding and strength training, quite detailed, very blokey