You don't have to be able to do muscle-ups and front levers to benefit from training with rings. They make even old favourites like push-ups and dips more challenging because you have to work to stabilise them. You'll probably be surprised at how much more difficult an exercise can be on the rings – I know I was!
However, once you learn how to get the rings under control, you will want to aim for some of the more technically challenging gymnastic moves as well. You will get fantastic upper body strength, a core of steel and you'll look very impressive at the gym to boot.
Have a look at my ring training video for demos of the easier ring exercises you can do to get started and read the guide below.
Dips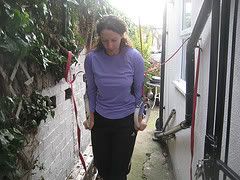 Ring dips are surprisingly harder than bar dips. The key to remaining stable in the dips is to keep the rings as close to your body as possible. When you dip down, aim to get your hands into your armpits. You get a much better range of motion with ring dips than you do with bars in the gym because they are much closer to your body.
Mastering ring dips is an essential precursor to learning the muscle-up. If you have trouble doing full ring dips for reps at first, practise negative ring dips. Use your feet to get yourself up into the top position and slowly dip down to the bottom position with no assistance. Once in the bottom position, use your feet to assist you to the top again.
Pull-ups
For pull-ups, the rings will naturally give you a neutral grip (palms facing inwards), which is very wrist friendly.
Pull-ups are also part of the progression to learn muscle-ups, as you need the strength to be able to do, say, 10-15 pull-ups before starting to learn the muscle-up. With the rings you can start to get used to the false grip, which is necessary for muscle-up technique, and do false grip pull-ups to practise.
Watch a video seminar on how to do chin-ups with a false grip from Crossfit London
Inverted row and vertical row
There's more than one way to row using the rings. The more normal method is to have your feet on the floor with legs stretched out in front of you, and pull your chest up to the rings using a rowing motion (see my video if you are not familiar with this move).
However, you can make it more difficult by hanging upside down and pulling your whole body up.
It's tricky because you get a bit of swing and it's hard to stay balanced in the position, let alone pull your bodyweight up. But worth the effort!
Push-ups
Like the dip, it's easy to get a better range of motion in the push-up when using the rings, bringing your hands all the way into your armpits. The first time you do this, you will feel it the next day, even if you have been doing normal push-ups on the floor for years!
Because you have to work to keep the rings stable, decline push-ups (head higher than feet) are much harder than they would be if you were using something solid. Incline push-ups (feet higher than head) are even more challenging with the rings.
Equipment
It's easier than you think to get hold of some rings, or ring-like objects. Here are a few options:
Buy readymade rings specifically for this type of exercise.
You can make your own using some metal and straps. My rings consist of a bit of metal pipe threaded with a roof rack strap. I'm lucky enough to have a pipe with a curve in it, but straight pipe would also work.
You can put up handles hanging from chains, as explained in this article by The Mighty Kat.
And finally, you can even use a couple of judo belts tied together. I've tried it, they do work!
More exercises
Crossfit London's Ring Training guide.
Some useful ring videos from Petranek Fitness:
Impressive stuff in this video clip ranging from relatively simple to quite advanced (handstand push-ups, one arm row, L-sit muscle-up)
Extreme rings from Muscle Beach!