I suspect all of us have emotional routines attached to our training sessions that play a big part in the training process. I often feel nervous before a workout, but at the same time I know this is a good thing. If I don't feel nervous, a little voice in the back of my head admits that perhaps this should be classed as an easy session or active recovery.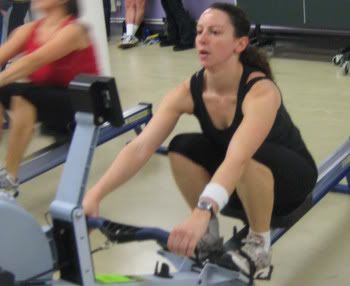 The nervousness starts several hours beforehand and kicks in with about an hour to go. Then suddenly I can't wait to get to the gym, just to get the bloody thing over and done with – the nervousness is killing me!
On the way to the gym, the adrenalin starts pumping, I start getting a bit excited and have to remind myself to warm up properly. Right before the workout, whether it is heavy lifting or high intensity conditioning, the nerves briefly reappear and I faff about making sure everything is set up just so.
Then all of a sudden it's into the workout and all systems go. Finally, I am having some fun! Yes, it is usually painful, messy, infuriating and desperate but there's no way I'm going to stop until it's done or I hurt something.
Some days I really feel that I am pushing myself to the limit. Other times I am working really hard, but I know deep down that I am not pushing myself as hard as I can go. What makes me push myself harder? Competition, definitely! Other people watching, other people shouting encouragement, good music.
Unfortunately most of the time I don't have any of this. I like to think it is character-building, trying to push yourself to the limit while all around you people are chatting and pec-dec-ing while cheap music video channels pump out 'hits of the nineties'.
I finish and either collapse in a heap or sit down and try not to faint (if it's a max strength day). After about a minute, when the recovery has kicked in, I am already re-writing history and thinking "dammit, I could have done that quicker/heavier/better!'
But I always leave the workout on a high and the buzz lasts for the rest of the day.
How about you? How does your training make you feel?
Related posts