Possibly the most popular exercise in any gym, the bench press is not just for ego and the t-shirt muscles. It is an event in powerlifting and a great way to build upper body strength.
What is the bench press?
The bench press is one of the three lifts in powerlifting (the other two are squat and deadlift). It is an upper body exercise working primarily the chest, shoulders and triceps.
Lying on your back on a bench, lower the bar to your chest and press it back up again.
Why is it such a great exercise?
Actually, because the bench press is so incredibly popular it often needs to be talked down as an exercise, in an attempt to get people doing something else in the gym, such as squatting. But it is good to have a pressing exercise in your training, whether this is a bench press or some kind of overhead press, and if you are a powerlifter it is of course mandatory.
For men in particular, the bench press is seen as the ultimate chest developer. There are also some sports where horizontal pressing strength is beneficial.
How to perform the bench press
In terms of technique, the bench press is the simplest of the three power lifts. Despite this, it is surprising how much bad benching form you see in gyms! Often this involves cheating on the range of motion, i.e. not bringing the bar all the way down to the chest.
Step 1: Starting position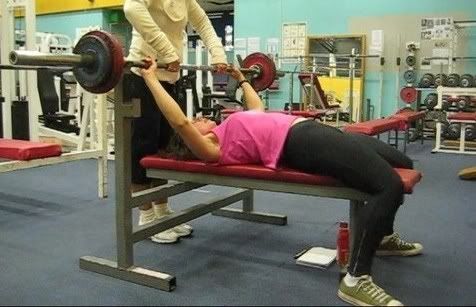 Lie on the bench with your feet flat on the floor, not up on the bench. Bench pressing with your feet on the bench is one of the bodybuilding variations of the lift and not conducive to lifting heavy weights. If you can't get your feet flat on the floor because the bench is too high, find some blocks to put your feet on.
Place your head underneath centre of the bar – make sure the bar is equally placed on the rack, not sticking out too far on one side, otherwise when you pick it up it will tilt to one side.
Your forehead should be under the bar when it is on the rack. When you unrack it, the bar will come forward so that it is over your chest. If you start with your chest under the bar while it is still racked, it will be in the wrong position when it is unracked.
When you position your hands on the bar your forearms should vertical – perpendicular to the floor (this is shown more clearly in the photograph in Step 3 below). Some people bench with hands as far apart as possible in order to reduce the range of motion of the bar but this is not good for the shoulders and can be uncomfortable.
Your back should retain its natural slight arch. Try to maintain the same arch throughout the lift. Your shoulders and bum stay in contact with the bench throughout.
Step 2: Unrack the bar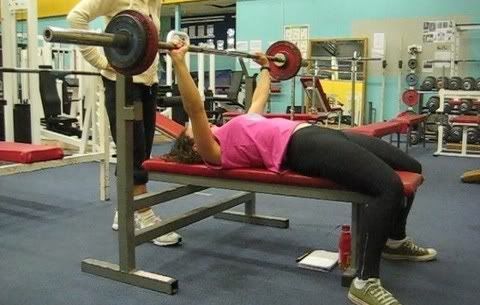 Either lift the bar off the racks yourself or get your spotter to help you (see the section below for how to spot). In both cases, you need to bring the bar over your nipple line before you start to lower it. Your arms should be locked out at this point.
Step 3: Lower the bar to the chest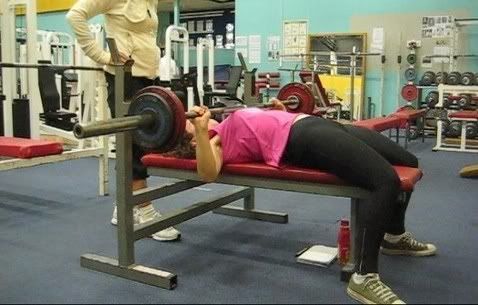 Before you start to move the bar, take a deep breath in and then lower the bar to your chest. If you don't touch the chest, the rep doesn't count. Make sure that you bring the bar down towards your nipple line, not your neck or clavicle.
A helpful tip from strength coach Mark Rippetoe is to look up at the ceiling, rather than follow the bar with your eyes. Pick a spot on the ceiling where you will aim to push the bar. Having this target to aim for helps you to keep the bar travelling in the right path.
Step 4: Press the bar up
Once the bar has touched your chest, press up until your arms are locked out (looking at that target spot on the ceiling). Don't bounce the bar off the chest. Powerlifters will actually pause to stop the bar's momentum before pressing upwards, as that is the correct procedure for competition. For non powerlifters it is not necessary to stop the bar, but to avoid bouncing it, just touch the chest lightly before pressing up.
There is a sticking point for most people about an inch above the chest where you have to work hard to push the bar up. This is the point that spotters should look out for, as it is where most failures occur.
As you press upwards, you can arch your back slightly but don't bring your bum off the bench and keep feet flat on the floor. You should end up in the same position as you started with arms locked out over your chest.
Some people breathe out as they press upwards, others hold their breath throughout the rep. For a more detailed discussion of breathing in the bench press, see this post.
Step 5: Rack the bar
Either rack the bar yourself or get your spotter to help you. If you have taken a wide grip on the bar, be careful not to trap your fingers under it as you rack!
Preventing injury
It is possible to really hurt yourself bench pressing – but most of the risk can easily be mitigated.
Dropping a heavy bar on your chest is not a healthy thing to do and can cause serious injury. It is safest to use a spotter or safety stands that are set at a height just above your chest. Do not bench without unless you are doing light weights and are very confident of making all your reps. This is particularly important for people who work out alone in a home gym.
If you train in a commercial gym, don't be shy: ask for a spot if you don't have a training partner. If you really don't want to ask a fellow gym goer, ask one of the gym staff – it should be their job to help.
There is also no harm in telling someone how you would like them to spot. It doesn't have to sound bossy or patronizing. Say something like: "Usually I prefer x, y, z – is that okay?"
Likewise, if you are asked to spot someone else, ask them:
How many reps they are going for
Whether they want help with racking and unracking
See below for more information about spotting.
If you are benching without any safety provision and you do fail on a rep, rather than try to lift the bar immediately, try rolling it down your chest and then sitting up. It is then easier to lift the bar off your body.
Shoulder injuries are also common in the bench press but can be prevented or mitigated in the following ways:
train your back as well as your chest so you don't end up with strength imbalances. Pulling movements such as row, deadlift and pullup are all good exercises for this purpose.
maintain good form – another great reason for always touching the chest in the bench press is that it prevents lifters from using weights that are too heavy for them
make sure you are warmed up before you bench and don't overdo it
include one-arm dumbbell bench presses in your training cycle occasionally, to improve your weak side (most people have a stronger side and a weak side)
How to spot the bench press
Some trainees like a hand off, others don't. Personally I like to have my spotter help me unrack and rack.
Other than possible racking and unracking, the spotter should keep their hands off the bar unless the lifter cannot lift it at all. The spotter is not there to help the lifter complete the lift, she is there to prevent the lifter seriously injuring herself.
The spotter will need to make a judgement as to how close to the bar she needs to have her hands. She can either have her hands completely out of the way, ready to approach if things get difficult. Or she can position her hands inches from the bar, ready to grab it in an instant.
Generally, there will be plenty of warning that the lifter will not make the lift – she will be straining hard, the bar will be moving very slowly or wobbling. As a spotter you don't want to rush in too quickly to take the bar away from the lifter: sometimes it takes a few seconds of real effort to get the bar moving up off the chest, so if you take the bar at the first sign of trouble, you have invalidated that rep for anyone who is serious about their training. Pretty annoying if you are going for a PB!
Here's an example of what my spotter does when I bench.
I tell her how many reps I am aiming for and she asks whether I need a hand off – in this case I have said yes. She counts 1, 2, 3, so that we can lift at the same time and then leaves me to it.
By the third rep, although I make an effort, the bar starts to wobble and you can tell that I am not going to make it, so my spotter steps in and helps me to rack the bar. Although one might want more time in a competition to really try to get the bar up, in a normal training session you would want to stop at this point, as form is collapsing.
Read more:
Long live your bench by Ian King
Spotting the bench press part 1 by Mark Rippetoe (you tube clip)
Spotting the bench press part 2 by Mark Rippetoe (you tube clip)