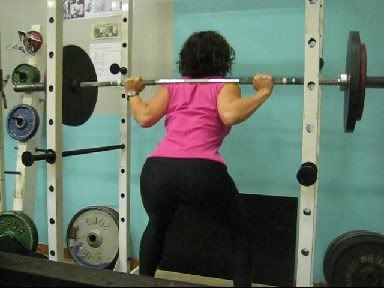 At the time of writing I have not written a 'how to' on the squat, although I've written one for most of the other major exercises. This is because to me, it is a huge topic and I am not sure how I would approach it and attempt to do it justice. So instead, I thought I would write about how it difficult it is to write about it!
(Actually I have written on the front squat and the overhead squat but not on the back squat or squatting in general.)
One issue with writing a 'how to' on the squat for a general website like this (that is, not devoted to any one aspect of strength training) is that the squat comes in many shapes and is used for a variety of purposes. The squat is relevant for beginners, elites, bodybuilders, powerlifters, those who want to get big, or strong, or more powerful or lose weight – but who you are writing for will depend on how you describe the exercise and what you recommend.
There is no one book that I've ever come across which covers all the various uses and methods for the squat. That would be an amazing tome if anyone could get their head around it.
I've been squatting for years, but I learn something new almost every time I squat. How many people are truly acquainted with the squat in all its forms? Some people must be, but most of us trainees just haven't had that kind of time!
Back squats, front squats, overhead squats, powerlifting squats, Olympic squats, bodyweight squats, full squats, parallel squats, partial squats, one-legged squats, box squats, band squats, chain squats, hack squats, pylometric squats…I've had a go at these, yes, but I couldn't in all honesty say I was fully acquainted with them. I specialise in powerlifting and I still haven't got half my head around the powerlifting squat – and there's no reason to suppose that any of the other variations are less complex.
The good news is that there is no reason ever to get bored of this exercise. There'll never come a point in your training career when you can say, 'yep, done that, got the t-shirt'.
Revelations
If squatting is a 'mystery' in the religious sense, then my 'revelation' was watching a grainy, wobbly hour-long video of Dan John teaching a strength seminar. Many of you have probably come across this video at some point.
Ironically I think the main thrust of the workshop was to do with teaching the deadlift (I don't really know because the video frustratingly cuts out the beginning and the end) but most of the content is actually about how to squat.
This video changed my squat forever. It opened a door for me. When you do what Dan John suggests, suddenly it becomes a whole lot easier. You understand what your body is supposed to be doing.
I don't want to go into too much detail because learning the squat is quite a personal thing, in terms of what you respond to. In fact, it is a good idea to read or watch as many people as you can on the squat because you never know which one will switch that light bulb on in your mind.
Squat depth
Squat depth is another hoary old chestnut that keeps many a message board stoked with controversy. I've written about it here. Again, it is a complicated matter because it is very much dependent on the individual's flexibility, mobility and technique. It's not an absolute, like a bicep curl or even like the deadlift, where the range of motion is obvious.
Rounding of the lower back trumps any loftier purpose for wanting a particular depth. Many people will have real trouble getting lower than 'tops of thighs parallel with the ground' safely.
Nevertheless, the ambition to squat as low as possible is a useful one in increasing squat flexibility. It's like speed training for powerlifting: the intention to move the bar quickly makes the lift more explosive and powerful even if the bar itself moves slowly. Likewise the intention to squat as low as possible will only increase flexibility even if you never attain maximum depth.
My flexibility has increased measurably since I've been squatting, although it has taken years. My advice is to take it slowly, have patience and try as many drills as you can to find the one that works best for you. For most people the quest for flexibility will never end, particularly as one gets older, but think of it as part of the process.
Improving your squat
Everyone's squat stalls at some point. And everyone (or at least, everyone who gives a real shit about their strength) goes through the same agonies: what's gone wrong? How can I make it better? Why is she squatting more than me?
Accept that linear progress will not be yours forever and think rationally about it.
I tend to start by looking at how I was training the last time I made a big squat improvement. But equally you could try something completely different, something you've never done before (like 20-rep squats, say) in order to stimulate progress. As long as you approach your chosen tactic with honest energy and commitment, the likelihood is that you will see some results and if you don't you can always try something else.
Quite often we read about the latest method or rep scheme that is 'the only method you will ever need' to improve your squat or whatever. Right now, it's 5/3/1 that everyone's talking about. Last year it was 5×5.
Some of the guys in my gym employ an even simpler strategy: if they got one more rep at a particular weight than last time, they got stronger. Simples.
So what's important is what you consider to be 'stronger'. If you are a competitive powerlifter, your community judges strength by what you can get for a single at a prescribed depth. But this isn't the case for everybody.
Technique
The squat police are everywhere. The squat is one of the exercises people are most fond of criticising. I prefer to think about technique as a Maslovian hierarchy:
1. Physiological & safety: squat safely! Don't squat in a way that will result either in long term damage or short term immobilisation. This satisfies the most basic need in terms of squatting.
2. Love and esteem: squat well! Do something that is recognisably a proper squat – go to a decent depth, have the bar in the right place, not too much forward lean etc. This is what everyone should be aiming for.
3. Self-actualisation: squat exceptionally! This is your own personal elite level. This takes belief and effort and bravery but is incredibly rewarding. For you it might mean big numbers, breaking records, squatting beautifully or just facing your fears and doing something hard.
Of course that's all a bit tongue in cheek but hopefully you know what I mean!
As a powerlifter (and egomaniac) I care about the numbers. I want a heavier squat, not a prettier squat. But I've found that although I've had times when the numbers have been going up nicely, at some point they stop going up and then you have to re-evaluate the way you are squatting to see if technique is limiting you.
I am not, however, a great believer in massively deloading to work on technique. One reason is that certain problems go away once you deload and you can get lulled into thinking that there isn't a problem. But when the weight goes up again, the problem is still there. Working at or around the problem weight is useful for me, or doing more volume at a lower weight, working on a particular element of technique.
My squat experience
For me, lowering into a heavy squat is like slowing down time. Then at the bottom, all time stops for a split second and you feel like you have to move the universe in order to get it started again.
But even here, I am being powerlifting-specific. Some people will never need to or want to perform a max single squat. So they'll never get to experience quite that same feeling, although that's not to say that repping squats is easy either.
The squat is a never-ending adventure. The more I squat, the more I think my squat isn't very good. That doesn't mean I take criticism well (I rarely take criticism well!) but it means that in my heart of hearts I do want to work at it and change things until they start working better.
I also don't squat as often as I should or could. There are so many ways to squat – you don't have to do heavy back squats every day to increase your squatting karma.
Squat heroics
I'll end this series of observations with a little story of inspiration this week. I was in the gym on Monday night, which is usually squat night at our place. A friend came in at the same time and we decided to work in together.
He was gunning for a PR that session and I could see that, in a quiet way, he was really focussed on this. He did several warm up sets, the last was a 6-rep set. Then after a slightly longer rest, he went for his new max, put everything he had into it and got it. He then warmed down with a 20-rep set at 55% of max. And that was more or less the end of his session.
What's inspirational about that, you say? Well, how many times do you see that happen in the gym? Guy comes in, quiet and focussed, does his thing, gets his PR (which was over 2 x bodyweight) and finishes with a 20-rep set. If that happens every day in your gym, you must belong to an amazing gym.

Share your thoughts and experiences of the squat below.
More from gubernatrix
Great squat resources

Squat RX playlist – comprehensive set of videos on the squat
Olympic vs. Powerlifting Squats by Geoff Neupert and Mike Robertson
Squat Training – Westside Style by Dave Tate