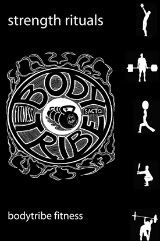 Gushing reviews are not, I hope, what you have come to expect on this website. I like to think my style is measured and discerning. Well I'm sorry folks you are going to have to put up with a bit of girly gush because I love this DVD!!
I've never seen anything that has made me want to run out and train so much! It's got all my favourite toys in it – barbells, kettlebells, sleds, tyres, bodyweight, leverage clubs….actually I've only ever handled a club once but after seeing this film it could easily become my new favourite thing!
What is this film?
Strength Rituals is a 2-disc DVD from Bodytribe, the brainchild of trainer and gym owner Chip Conrad. Between the two discs there is well over two hours of content and you can't help thinking that there was loads more that could have been included but, like all canny filmmakers, Chip is probably saving that for the sequel.
Structurally the film consists of a series of episodes featuring particular movements, combinations and workouts performed by Conrad and other members of Bodytribe. These are exciting, always tough and often original. The one rep max effort Turkish get-up sequence made me want to jump off the sofa and join in!
Over the film is a narration by Conrad which is lively and full of personality. Part commentary, part lecture, I found it appealing. To someone rather less in love with language it might occasionally sound excessively wordy and convoluted. Still, I think using a voiceover makes for a more polished presentation than pieces straight to camera, which are notoriously difficult to get right.
This documentary format allows Conrad's narration to range easily from the particular workouts we are seeing on screen to his approach, methods and general philosophy of training. He talks a lot – but there's real passion behind the prose.
What's good about this film?
I don't quite know where to start, there are so many things I like. But let's take a deep breath and try to break it down a little.
Sheer inventiveness
I've been in this game for a few years and I like to think I am close to the cutting edge when it comes to fitness methods and techniques. If it's weird, wacky or 'out there' I've had a go. But there's still plenty of stuff in this film that I haven't seen before.
It's not that it's new exactly. In fact, some of it is very old indeed. Chip Conrad acknowledges that very little of what you see is per se original – but he puts it all together in creative and inventive ways and all the way through the film is exhorting the audience to do the same.
"There is no magic in a single tool, a single program or a single principle. The Bodytribe template is license for creativity, allowing you to escape dogmas by embracing and manipulating the many malleable factors that we can use to forge our strength."
The kettlebell combos on the second disc are particularly inspiring and they are going to be keeping me busy for some time to come.
Production
Content is important but production will make or break a movie. If you've ever seen movie B-roll you'll know what I mean. Films are made in the edit suite.
This film is really well put together. Everything is a 'character' in this film, from the locations to the music to the animals (wild and domestic) that wander in and out of shot. It's very well edited and the occasional cheesy/ironic use of a special effect makes it more interesting for the viewer.
The production values are budget and some of the camera work is a little shakey but that is all part of the charm.
If the content was superb but the production was crap, 99% of people wouldn't sit through more than ten minutes of this film, or any film. It's testament to Chip Conrad's artistic instincts that he understands this and has put a lot of effort into making this film watchable.
Audience
This is not a film for beginners. Thank god! We don't need more instructional DVDs, we need films to inspire and this is certainly one of those.
To get the most out of this film you need to have a good grasp of the key movements like squat and deadlift. It also helps to be reasonably adept with the major tools such as barbells, dumbbells and kettlebells.
There is some instruction in the film, particularly on the more unusual tools and exercises such as leveragae clubs or the Steinborn Lift. There are also tips on form for the more conventional exercises but you wouldn't, say, learn the squat from scratch with this DVD.
Conclusion
Essentially the film helps you to build on what you know and get creative with your training. There's a logical framework, a method of programming which is simple to grasp but powerful and extendable.
Conrad stands on the shoulders of giants (Dan John, Westside Barbell, Mel Siff) but he also has his own original take on training and, like Dan John, his view is an all-encompassing one. He talks about training in terms of who you are, what you stand for, how you live your life.
Conrad's writing and ideas are not as easily accessible as the likes of Dan John. I've been a reader of his effusive prose, on his blog and elsewhere, for a while without really 'getting it'. So putting it all together in this rich, visual format is a good move – nay, a triumph.
I might even read his book now.
Update: good news for UK and European readers! I am getting in a bunch of the Strength Rituals DVD to ship from the UK, saving you £££s on postage. They'll be available in the shop from next week!