This post was inspired by a discussion that's been going on at one of the forums I frequent. We've been talking about how we define ourselves in training terms, for example, do people who do Crossfit define themselves as 'Crossfitters'?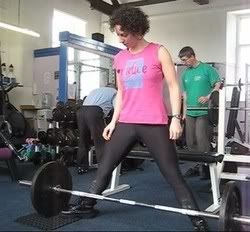 My take on this is that I prefer to define myself in terms of what I am training for, the ultimate goal of my training, rather than what method I use to do it. For example, "I train for strength", "I train for my health", "I train to be a better human being."
I am sure that anyone who trains 'functionally' (doing what we do) is going to get people asking them questions. And it is important to think about how to answer those questions because you can be an ambassador for your style and purpose of training and perhaps open a few doors in a few minds.
To be honest, though, sometimes I forget to do this. I am often asked what I am training for and sometimes I just say what my next goal is: "I'm training for a powerlifting competition in November". But actually that's not true. My priority might be an upcoming meet but that's not all I am training for, not in the slightest.
All that mobility and stretching isn't just so that I can go lift some heavy weights in two months time without tweaking a muscle. That sweaty GPP stuff isn't just so that I can do my warm up without feeling tired. If you knew about powerlifting you might even question my decision to do GPP at all.
Somebody asked me on this blog recently what my goals were and this is what I said – the salient bits anyway:
"for me strength training is a path to personal development and empowerment, a constant and never-ending adventure. There isn't an end point as such – I am a seeker and always will be. I guess becoming physically stronger helps me to be a better person in other ways…

…At the moment I am enjoying competing in powerlifting but I can't say whether I will be doing this in two years' time. I might be trying some other sport. A lot of the time my choices are to do with what I find fun and engaging at any given time."
Okay, it takes longer to say that than it takes to say "I'm a powerlifter", especially since I actually rambled on more than that. Nevertheless I need to be better at recognising that if someone I don't know comes up to me in the gym and asks me about my training then either they are trying to chat me up or they have a genuine desire to know more about it. It takes courage to ask a stranger about what they are doing so why should I assume that they can't handle a fuller answer than, "I'm a [insert group affiliation here]"?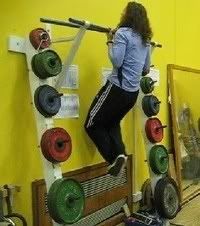 What would my training look like if I was just training for my next meet? It might look like most of the other powerlifters in my gym (bless 'em). Come in, jump on bench or cage, do some warm up reps, do some heavy reps, maybe do a couple of assistance exercises, munch protein bar, go home.
Instead, it looks like this:
Mobility warm up including exercises specific to that day's main lift or some light skill work on a technical lift
Big lift e.g. squat, deadlift, including warm up sets and work sets
Assistance lifts e.g. good mornings, Romanian deadlifts, rows
GPP workout, some kind of short, high intensity circuit
Warm down and stretch
Foam rolling and any necessary rehab work (usually do this later at home)
And on non-gyms days I often do sport, or short GPP workouts, or bodyweight stuff like pull ups and general messing about on bars.
Many people will read about what I do, in the gym and out of it, and think, "Gosh that seems like a lot of time". I spend 2 hours in the gym three times a week, plus the stuff I do at home. Sound like a lot? I'll wager it is less time than 90% of the population spends watching TV per week. Heck, it's less time than I spend watching TV per week!
I can't think of one area of my life that isn't enhanced by my physical training. My friends will have noticed that I have taken to bemoaning my life of late (it's all gone a bit pete tong) but the gym is the one place where I look like I might actually have a handle on this 'life' stuff.
Back to group affiliations. There's nothing wrong with defining yourself in terms of your membership of a group or organisation, like Crossfit. Something that came out in the forum discussion is that it can be useful shorthand. The name itself is quite illustrative of the principles behind the concept – training across a number of different domains and so on. I agree that the name is genius, but it only tells a small part of the story.
I don't know what you'd think if I said "I'm a Catholic" but you could assume any number of things, from my attitude to abortion to what I wore at school. Labels aren't always a useful way to define people. I think we are finding in the UK community that monikers such as 'Crossfitter' can have negative or unintended connotations, due to the behaviour of some members of the community.
So I think it is useful to define what your training is for you, away from labels and groups and also be prepared to share this with other people who show an interest.
Then perhaps we won't be the only people doing weird things in the gym.
Do more weird stuff in the gym with:
Strength Rituals DVD from Bodytribe
Elite Fitness Manual from Crossfit London
Pretty kettlebells
Gymnastic rings