An essay on strength training as if people mattered.
I love strength training. You know it, but I'll say it anyway, I bloody love it. It's one of the most happy, positive things in my life. I like knowing I'm strong and I'm only getting stronger.
Why the sudden strength affirmation?
Well a number of things have occurred in the last couple of days. My wise friend Andrew asked me to give a talk on 'women and strength training'. Then my tovarisch Chip Conrad posted an essay about gender strength (an extract from his book which you should seriously consider buying). Plus a couple of forum conversations I had all combined to get me thinking about this notion of strong women.
We are all aware of the issue, I expect. I've talked about it many times on this blog: the mismatch between the stereotypical bodybuilder-inspired image of a weight training woman which every chick thinks she will turn into, and the reality of women who do train with weights.
Chip sums it up in his piece, like a man who has been to this land before and knows how to communicate with the natives but still carries a revolver, just in case:
"Physical strength is held as a male trait. Wait… drop it. Do not throw anything at me yet. If this isn't true then why is the common stereotype of a strong woman riddled with words like 'butch', 'bulky,' 'steroids', or any number of terms that have very male connotations? And why are women's 'fitness' magazines so bent on perpetuating a soft, helpless version of a woman who should only do petite Pilates moves or move little colored weights around that weigh less then a kitten? And why does the cover always feature a waif-ish model who looks like a 12-year old boy with make-up on as some sort of icon to what a 'fit' woman is?"
I don't disagree with this. But since it isn't news, I suspect, to any of you, I want to go beyond the magazines and media images and examine exactly what happens when you do train.
Personally I have had nothing but positive reaction to my ever developing strength abilities. Either that or I've just grown completely oblivious to any negative reactions. But I think it's the former.
The point being that there's a difference between what images people associate if you fling the term "strong woman" at them, and what they think when you are standing in front of them.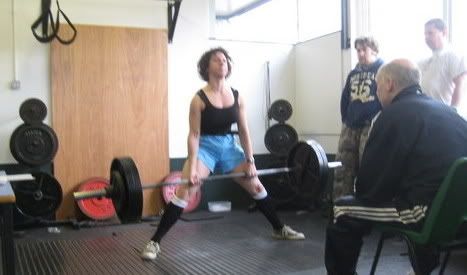 Yeah, no-one looks their best in the middle of a max deadlift, but I'm cute when I smile!
I find that what people see in front of them starts to modify the mental images. Here's a real living breathing person who looks normal (apart from the weirdly fluffy hairdo), saying she lifts this and presses that and heaves the other. And she looks pretty happy about it. Maybe the media fed images aren't true after all.
Obviously the light bulb doesn't always go on immediately as the media images are very powerful. But a seed has been planted.
Numbers
To a certain extent, it's a numbers game. There aren't enough women lifting weights in gyms across the land for any other images to take hold.
Most people don't see women lifting heavy in the gym. They don't believe it happens. They don't know how it happens. Therefore you can stick any image you like on the cover of a magazine and people won't know whether it is true or not.
Men who say women don't work hard in the gym haven't done some empirical study of the phenomenon. They've just never seen it happen (or more specifically they've not seen women training hard in a particular way which they class as 'real training'; busting a gut in spinning class or yoga apparently doesn't count).
However once people see women training with weights properly, I find that they start to get it. And they like it! I've had nothing but positive vibes from people. I've been accepted and respected by the 'meatheads' at every single gym I've belonged to – yeah it takes a few weeks but it happens eventually.
Who'da thunk it? Reality wins!
Men
Let's talk about what men think for a second. Hey, most of you reading this are men anyways.
I am sure we've all seen the comments: the claims that women don't work hard in the gym, women with muscles and six packs are ugly, women shouldn't lift weights because it's not ladylike blah blah.
Here's the truth about women's weight training: men are, on the whole, pretty impressed.
I've never had so many compliments on my physique or attitude as when I'm training. Seriously, if you care about such things, squatting heavy is a guy magnet.
I don't care if the interest is flirty or technical – both are fine by me. If the interest is technical, I've got rather more to say, but I'm not fussed.
Yeah, the world isn't perfect but there's plenty of spare respect to go around. Women can choose to dance around in their panties on youtube and pander to male chauvinist images of what they should look like, or women can respect themselves and pursue what they think is right for them (and if that is dancing around in your panties, why not consider competitive pole dancing?).
Pretty girls are everywhere, strong women are rare! I'll never stand out as being pretty (I have a brilliant mind of course but that doesn't show up in a club) but put me in a squat cage with a pair of black leggings on and I'll show you who's your daddy.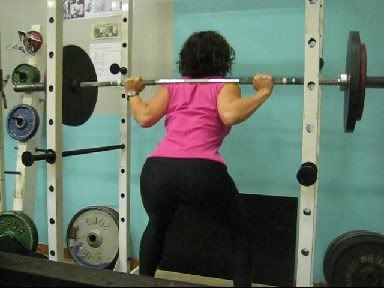 Women
In all the years I've been going to the gym I can probably count on the fingers of one hand the number of women who have come up to me and asked me about training. This bothers me. In the past I've just shrugged my shoulders and carried on with what I was doing. You can lead a horse to water but you can't make it drink.
Am I even leading the horse to water though? Or am I just leaving it in the dusty street to find its own way to the water trough (which is surrounded by thirsty bulls slurping all the water and farting).
Before I lose you all in that metaphor, what I mean is, have I myself done enough to create the opportunity for women to ask about strength training and actually get to do it properly? Not doing the dumbbell shoulder press on a swiss ball exercise that the PT gave them but getting under an olympic bar in the squat rack.
Perhaps the wise friend who has asked me to give a seminar is on the right track. Let's give some talks and start some women-only sessions round the power cage!
Heroes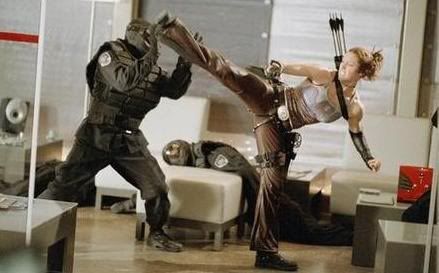 When I think back to what got me into strength training, I don't remember it being anything external. There wasn't anyone that I wanted to be like or become, it was just the way I felt inside when performing a feat of strength (at that time a relatively wimpy feat, but still a feat).
Women don't have physical strength heroes in the way that men do. Women don't have the pressure to be bigger, stronger and tougher the way that men do. This has its advantages (men don't escape unscathed either) but it does mean that women are less likely to explore feats of physical strength as a method of self improvement, empowerment and happiness – especially when becoming strong is apparently contraindicated for beauty, if we believe the magazine images.
There's no particular reason why men should be the protectors and women the carers. The roles can be interchangeable.
Beauty
'Beauty is truth, truth beauty,—that is all
Ye know on earth, and all ye need to know.'
– John Keats' talking urn
We can ask 'what is strength?' and try to define it for ourselves.
We can also ask 'what is beauty?' and try to define this for ourselves, since many of us (all of us?) first stepped inside a gym because we wanted to be some kind of beautiful.
I'm not talking about inner beauty either – or not just about inner beauty. I mean real, visceral, gorgeous, physical beauty made even more intense by its truth.
Call me sceptical but I look at magazine images and although I can see that they are put together pleasingly, they might as well be pencil sketches for all the relationship they bear to reality (and that's not being fair to pencil sketches).
For me, strength is a vital component of beauty – physical as well as metaphysical and intellectual.
We shouldn't get hung up about images of beauty or what other people think is beautiful or not beautiful. We need to know what beauty looks and feels like for ourselves.
Need a hero? Watch this great video. And then go here.
More from gubernatrix