So, an Irishman, an Australian and an American walk into a bar….and among other things they decided to open a gym, Informed Performance in Dublin, and invite coach, athlete, philosopher and all-round good guy Dan John to come and deliver a two-day seminar, download 42 years of strength training wisdom and share a few beers in the process.
As soon as I heard this was happening, I knew that I must go – if I had to sell my grandmother, swim the Irish Sea and sleep in the carcass of a dead sheep to do it.
Dan John has garnered many fans over the years through his straight-talking, insightful articles, recently collected into the book Never Let Go. Every article is an 'a-ha!' moment that suddenly makes one's goals seem clearer and closer. It's a rare gift and one that Dan has always been keen to share with as many people as possible.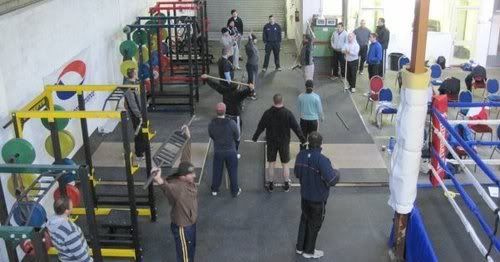 From far and wide we came, from Finland and Germany, from Aberdeen and London and from all over Ireland. We were a mixed bunch, from powerlifters to rugby players, personal trainers to enthusiastic amateurs.
But what we all shared – Dan John down to every last participant – was a passion for training, a desire to plumb the depths not just of particular movements but strength training philosophy, programming rationale, maximising nutrition, supplementation and recovery, the emotional landscape – in short, everything that makes the difference between success and failure.