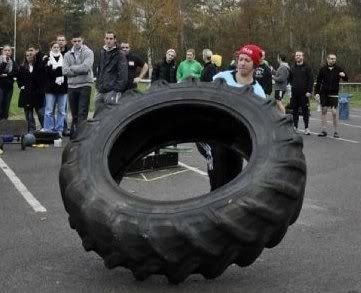 It's funny how competitions, whether local, national or (occasionally) international have quickly become part of my life and my annual schedule. I still get nervous but it seems natural to be competing and, conversely, it feels weird when I haven't got a meet to train for.
But due to the very low level of female participation in strength sports, I often find myself competing against very few other women – and in local competitions often against no-one. It's not unique to women either. Juniors or the upper echelons of the Masters categories can also be in this situation with regularity.
I enjoy getting up and lifting at any occasion (I'm available for birthdays, weddings and barmitzvahs), but I used to feel odd about 'winning' a medal in situations where the competition was small or non-existent. I suppose I felt like I hadn't 'won' unless I'd defeated a large number of people.
But even if there is no-one else in your category, in order to win a medal at a meet you have to:
learn the lifts
do the training
get your entry form and payment in on time
turn up on the day
make your weight class
wear the right kit
get out there on the platform in front of a crowd
put in at least one good attempt on each lift
There are many points of failure in that list, and over the year or two I have been competing – in other words, not very long – I have seen people fail at every single stage.
At competitions, I have seen people bomb (not get a single good lift) or not be allowed to lift because they haven't got the correct kit. Plenty of people don't make their weight – remember the young UK boxer Frankie Gavin who had to go home from the 2008 Olympics without competing because he didn't make weight?
I've known many people who have entered competitions and not managed to turn up on the day. Then there are those who train but get injured and have to pull out. Or those who sit around saying they'd like to do it – but somehow never commit themselves to it.
When I think about all that, I don't feel so bad about getting a medal in a small field. I trained, I showed up, I lifted. I deserve my medal.
Showing up
My friend Dan John has written recently about showing up. It's something he talks about often, another example of those simple pieces of wisdom that bear repeating. He wrote on his blog the other day,
"If you want to be a national champion, you really need to get to the stadium on time. If you decide to get married, the ceremony starts at 11. Be there. Showing up is underrated as a life skills success clue."
He then goes on to say, "Of course, showing up is only step one. Step two is to do something." He's right, but in the context of competitions, the fact that you show up on the day, on time, usually indicates that you've done a hell of a lot already.
Do you have to be brilliant before you enter your first competition? Of course not. Even the greatest athletes start competing way before they have reached their potential. Competing often helps you to improve overall (although it's not the only way to improve). Just as you need to practise in the gym to get good at the lifts, you have to practise competing. From controlling your nerves to warming up effectively or getting in the zone, there are circumstances that are unique to the competitive environment and very difficult to reproduce in the gym. So practise them by going to lots of meets and just getting on with it.
Ultimately, who knows what can happen in competition? In the 2002 winter olympics the gold medal in the 1000m short track speed skating was won by the man in last place, Steven Bradbury. Everyone else in the race fell over at the final corner and he was literally the last man standing!
Was he the lame duck who was handed the gold medal on a plate? Or was he the guy who trained hard for years, got selected, showed up, got through to the final and managed to stay on his feet when everyone else fell over?
Being a champion
The other day at the gym, I had abandoned my usual weightlifting training in the snatch and the clean & jerk in order to work on one of the odd lifts. My weightlifting coach, who likes a bit of banter, said, "Wouldn't you rather get good at something that lots of people do?" I said, "Nah, I want to be champion of being me."
At the time I meant it as a joke but afterwards I thought that this probably is my overriding aim: to be champion of being me. To be as good as I can be, to 'win' over those inner demons and life demands.
If I manage to win at anything else, that's a bonus.
More from gubernatrix
Scenes from a powerlifting year
Strength revelations: what I've learned from strongman