All the fabulous photos by Helen Armstrong
Earlier this year I was approached by a young woman called Chantelle who had been lifting weights for a few years, loved it and now wanted to share her passion for lifting heavy things with other women.
Chantelle wanted to set up a series of weight training workshops for women only – and this is why:
"Like many of the women reading this, I train alone and have made very few friends in my weights room in all this time…I could say that my girl friends think I'm insane for lifting weights, or think that it's not for them; that the guys in my gym think I'm a freak for lifting so don't talk to me, or stare because I have bad form.  What's missing from the analysis is what I'm doing and who I'm being….

I learnt almost everything I know from fantastic internet bloggers like Gubernatrix and Stumptuous, but have never passed any of this on, or given anything back.  I think I just worried about ridicule or rejection. Realising this made me decide to turn my passion for weights into action."
You can read the full story in an article Chantelle wrote for the recent Women's Strength Symposium called Turning passion into action. As you'll see from the comments, this idea generated a lot of interest.
In the meantime, Chantelle got right on with organising two workshops and enlisted myself and personal trainer Ade Abudu to develop and teach the sessions.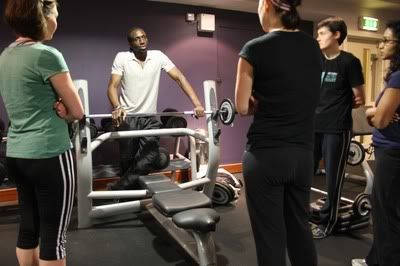 The workshops are described below and I have also included some of the feedback we received. This is not to make us sound awesome (no, really) but to show that the concept and format really works.
I can safely say that a few of those brave souls who turned up were a bit sceptical, suspicious and otherwise unsure whether this was really what they wanted to be doing on a Sunday morning. But by the end, everyone was smiling!
Philosophy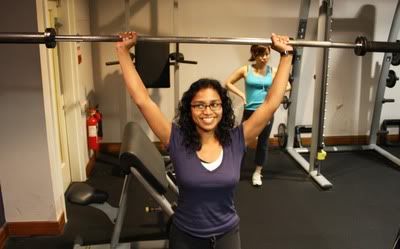 Right from the start we knew we wanted to hold the workshop in the weights room itself. The idea was to help to demystify this space, break down the barriers (psychological, emotional, physical) preventing women from entering it and train on proper equipment.
Hiding away in a studio lifting plastic bars was not the plan!
We also wanted to hold the workshop in a normal, commercial gym – rather than a weightlifting club or Crossfit box – because we wanted people to be using the kind of equipment that they will find in their own gyms. Our workshops took place in LA Fitness.
We decided to teach the big, compound free weight exercises such as squat, deadlift, bench press and so on. We didn't want to do 'girly' versions or avoid the 'heavy' equipment.
"I would never have been brave enough to try barbell lifts without this opportunity, and after this I was emboldened to go down to my local council leisure centre and ask if they have a squat rack."
We wanted the atmosphere to be positive and enabling. We wanted participants to have fun but also to be pushed further than they would push themselves on their own. What better opportunity to challenge yourself when you have a supportive group of like-minded women around you?
"it was very non-confrontational and I didn't feel that I was being tested or looked down on which made me more willing to really try things out"
We held two workshops, two weeks apart, and we encouraged people to come to both. In the end, for the second workshop we had a mix of those who had been to the first workshop and some who were newcomers.
Workshop content
In both workshops, we started the session in a studio so that we could all get to know each other and do a warm up together.
We also looked at squat technique to make sure that everyone was comfortable with the movement and had no major issues before we headed to the weights room.
I find that women generally have good movement, balance and better flexibility than a lot of men to start off with, so it is delightfully easy to teach movements like the squat! None of the participants failed to perform a decent bodyweight squat within twenty minutes, which was very impressive.
We then moved into the free weights area where we split up into smaller groups and worked on back and front squats, deadlift, bench and overhead press and inverted rows.
The weights area was being used by normal gym punters as well; we didn't have the room to ourselves. This was both good and bad – the atmosphere was that of a normal gym day, but we did somewhat hog the equipment! Still, kinda funny when a bunch of women chuck the hapless bicep-curling bloke off the squat rack…
I've found in the past that the gym instructors I've worked with have been very reluctant to put weight on the bar (or even give me a barbell), even when I've clearly been perfectly capable of lifting more. In our workshop, despite the fact that most participants had never squatted with a barbell before, everyone worked up to lifting with a good deal more than just the bar.
At the end of the second workshop, we finished off with a group bench press session where everyone went for a personal best! This was great fun and ideal to try for a best when you have a group cheering you on.
"I really liked the bench press and being encouraged to try heavier weights. That Ade thought I could do more gave me the confidence to push myself harder."
What particularly pleased me was the fact that people were willing to attempt a lift and fail! I have heard from many women that one of the things they are most nervous about is failing a lift in front of other people – and this used to be a big issue for me as well. In the workshop we made a point of getting people deliberately to 'fail' a squat just to feel what it is like (and to see the safety bars on the squat rack in action!). When it came to the bench press, people were so confident and 'up for it' that they really didn't mind going for a heavy weight and not getting it. Knowing that they had pushed themselves to the limit was more rewarding.
It was fun, as you can see from the pictures. We didn't force people to smile while heaving weights over their head!
Chantelle wanted to give people something to take away both as a reminder of the workshop and also as a spur to further action. So every participant got a free workout journal with a workout programme developed by Ade which covered all the exercises we had learned in the workshop. Chantelle also printed out an exercise technique handout so that participants had something to refer to when trying the movements on their own.
"Great instructors, good content, and great vibe from all participants"
I don't know how many people went away from the workshop and started lifting immediately. I have been in touch with one or two whom I know are getting into their lifting with enthusiasm, which is fantastic. For others, the experience may work its magic in the background and may have a less tangible but still postive effect.
The aim was not to turn out an army of female powerlifters but to give women a positive experience of proper lifting and introduce an alternative to the 'cardio bunny' model that we are used to seeing in the gym.
"It was a really positive experience and I don't honestly think I know of any way it could be improved, sorry!"
I personally was monumentally stoked to be part of this project. I came away from each workshop absolutely buzzing. It didn't feel like teaching, it felt like training with a group of friends.
I plan to put on more of these in the near future so watch this space!