All photos by Matthew Nourse
On 29-30 May I went to the World's Strongest Man Experience at the Excel Centre in London. The event comprised a two-hour competition featuring some of the biggest stars in WSM – including current World's Strongest Man Zydrunas Savickas – preceded by an opportunity to meet the strongmen on the exhibition stand, have your photo taken, get your programme signed and generally marvel at these man mountains.
I thought it was a great idea for strongman fans, allowing you to experience in person what you've only seen on the telly at Christmas! The coolest part for me was getting to rub shoulders with the strongmen on the stand (not literally of course, as I'm only 5 ft 5) and interviewing Zydrunas Savickas (see the clip here).
Of the Brits, Terry Hollands, Mark Felix, Jimmy Marku and Darren Sadler represented in style. Laurence Shahlaei was also on the bill but pulled out in order to compete in a qualifier for the WSM 2010 finals (he successfully qualified!).
It's worth saying that some of these guys are competing every couple of weeks. Terry Hollands, for example, did a Strongman Champions League event in Finland two weeks before, and another SCL event in Ireland two weeks after. Although these weights seem superhuman, it's all in a day's work for the professional strongman.
World Record from Felix
On the Saturday before the main show we were treated to a world record attempt by Mark Felix in the left handed deadlift.
Mark is well known as an absolute deadlift and grip monster, current Rolling Thunder world champion (Rolling Thunder is a notoriously difficult revolving deadlift handle). So I don't think anyone was in any doubt that he would take the record easily. It stood at 221kg; Mark went for 225kg and got it.
He could probably have smashed the record and lifted more, but he did have a whole two days of strongman competition ahead of him, so perhaps he held back a little.
The events
After Felix' new world record, the competition itself got underway. The line up included: Zydrunas Savickas (Lithuania), Terry Hollands (UK), Darren Sadler (UK), Stefan Solvi Petursson (Iceland), Thomas Nowotniak (Poland), Jimmy Marku (UK), Kevin Nee (USA) and of course Mark Felix (UK).
That's a lot of power to fit into a small arena!
The competition was adjudicated by strongman legends Geoff Capes and Svend Karlson, and hosted by Caroline Pearce (aka Ice from Gladiators). She was a good choice of host, I thought. It's nice to have a woman amidst all the testosterone; moreover one who isn't a) just the female foil to a male host, and b) not just a pretty face. Pearce, who is an ex-athlete herself, has presented a few strongman events now and is getting to grips with the specifics of the sport. Could she be the Gabby Logan of strongman? I don't see why not!
Events
The events were:
•    Farmers walk 160kg each hand – 15m
•    Dumbbell clean and press 93kg – reps in 60 seconds
•    'Axle' deadlift 330kg (16 inch deadlift with olympic bar) – reps in 60 seconds
•    Log press 130kg – reps in 60 seconds
•    Atlas stones
A menu of classic strongman events here. Due to space constraints, the events chosen tended towards the static. However, as many events were a particular lift for reps, it was a good opportunity for strength fans to witness the strongmen's technique, particularly in the overhead events – which for many of us recreational strongmen/women is our nemesis!

I was particularly interested in the dumbbell press, as I have seen many people struggle with this event. The event favours the short-armed guys, so Jimmy Marku and Darren Sadler did well. Savickas, who has excellent overhead strength, won this event.
Clip: Savickas dumbbell clean & press 93kg – 7 reps
Clip: Darren Sadler dumbbell clean & press – 6 reps
As you might expect, Mark Felix destroyed the deadlift event – this after getting a world record in the left-handed deadlift. Straps are allowed in strongman deadlifting, as it is not intended to be a test of grip.
Clip: Mark Felix deadlift 330kg – 14 reps
The 130kg log press was done in a head-to-head style. In the clip below, Jimmy Marku goes up against Mark Felix.
Clip: Jimmy Marku log press 130kg
We finished with the atlas stones, always a crowd pleaser. Professional strongmen these days are very adept at this event, which involves an unusual technique not normally seen in lifting. You pick the stone up off the floor with a rounded back ('sacrilege!', a fitness instructor would cry!) and wrap your body around the stone in order to roll it up your chest before pressing it onto the platform.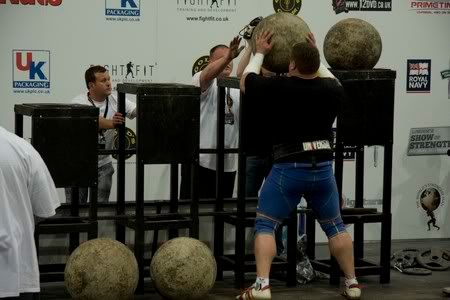 The stones is usually the last event in a competition and can therefore decide the overall winner if places are close. So it behoves the professional strongman to get very good at this event!
Although height is a factor, as the platforms for the stones can be quite high, a number of the shorter strongmen have proved that you can still be competitive at this event if you work hard. Darren Sadler, the shortest guy in the competition, put in an incredible performance in the stones.
(Watch Darren do a 10-stone lifting demo in 2007 and you'll see what I mean)
On the Saturday 'Big Z' Savickas came out on top, with Terry Hollands second and Darren Sadler, the shortest and lightest guy in the competition an impressive third. I'm told that Savickas and Hollands also came first and second respectively on the Sunday too.
It was a pity Laurence 'Big Loz' Shahlaei couldn't be there as I'd have liked to see how he stacked up against Hollands – both British men are really in form at the moment. They will both be competing in Europe's Strongest Man in London on 19th June though, so perhaps we'll see a fine competition there!
I also spoke to Jimmy Marku about his training but he wasn't giving anything away! As reigning UK's Strongest Man, he's clearly got game. And with Mark Felix getting yet another record under his capacious belt, things are looking good for British strength at the moment.
I also liked newcomer (to me, anyway) Stefan Solvi Petursson, an Icelandic strongman with a big personality who clearly has fun and communicates well with the crowd. He was one of the tallest strongmen and won the stones event with a lightening fast time.
All in all, this was a great event for strongman fans, getting up close and personal with the athletes, watching them compete at close quarters and seeing what quality we have in the British camp.
The sport of Strongman
One of the most interesting and exciting things about strongman for me, both in terms of competing and spectating, is the range of techniques and facets of strength and fitness that are employed. To be a winning strongman, there's a lot you need to be good at. If you've got a monster deadlift but are weak overhead, you will suffer in the events. So it a real spur to work on your weaknesses.
When I spoke to Geoff Capes he commented that, "strength is only measured with the disciplines you give them to do and the guys are actually competing in the event. Change the event, change the disciplines, you'll get a different result."
Naturally, strongman is a punishing game. You've got to train the lifts in the gym and focus on getting stronger, but you've also got to practice your event technique. Although the equipment is more sophisticated these days (we don't just hike into the forest and chop down a tree for the log press any more), it is still easy to bruise, bash, scrape and generally injure yourself as you train.
American strongman Kevin Nee, who had to pull out of the WSM Experience competition after a couple of events through injury, and has endured two bicep tears and a pec tear in his career so far, talked about the dangers of doing too much too soon:
"Some advice for those who are starting out in the sport, just don't rush it too much, take your time, stick with it, stay dedicated and you will get stronger".
There seems to be good camaraderie between the strongmen, who see each other regularly on the circuit. I saw a lot of big physiques and big lifts but didn't see any big egos. Even Savickas, whom I assumed would be rather intimidating, was great fun to talk to and modest about his achievements.
Perhaps it is too easy to be humbled in this game. Of course you must have self belief and you must be dedicated to the goal. But it is a sensible strongman who refuses to entertain the hubris of an enormous ego.
More on this topic
WSM athlete profiles
Another review of the event by The 5th Stone blog
More from gubernatrix
Strength revelations: what I've learned from strongman
Lifting and carrying: are you getting enough?
Five secrets of more effective training