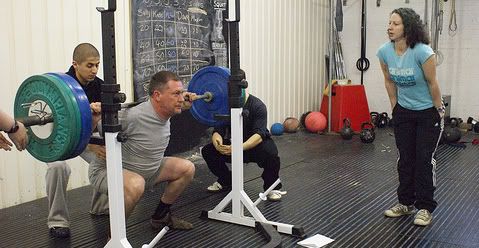 Squat workshop by gubernatrix (Photo: Kate Pankhurst)
Strength. It's 99% about how strong you are.
I don't know whether it's the circles I move in, but I tend to meet people who are more concerned with how good their technique is than how much they are lifting.
These well-intentioned students of strength are the opposite end of the scale from the idiots in the gym who load the bar up with more weight than they can handle and then proceed to invite maiming with appalling technique and absolutely no understanding of basic safety. But as far as I know, none of those people reads this blog (though they should!).
I'm known for being generous where technique is concerned, not a stickler for the perfect position so long as people are reasonably safe. I am willing to entertain other opinions but I tend to think not 'is my technique perfect?' but 'is my technique good enough'?
When I teach workshops, such as the squat workshop pictured above, I focus on technique and strength. When you've got the basic movement, it's time to stick some more weight on the bar and challenge yourself.
I didn't get into strength training to do pretty moves, although that's part of the fun. But I got into it to lift ever heavier things – that's my own personal buzz. Will I sacrifice technique to lift something heavier? Yes, sometimes. Not all the time, not every day. I'll train sensibly and then go for it on the platform, for example.
And before you raise the hydra of injury – yep, been there. In fact I picked up an injury just a couple of weeks ago while deadlifting in a strongwoman competition. Am I annoyed I got injured? Yep. Do I regret going for that weight? Nope.
Strongman is an interesting sport since many of the events are performed using what most people would think of as bad technique – rounding the back in the atlas stones, hyperextending the lower back for the log press and so on. But strongmen train specifically to perform the events like this. It's in the nature of odd object lifting. It's part of what it means to be a strongman – being able to lift in some very awkward positions.
And for you functional fitness fans, this is vital. In an emergency situation, are you likely to be presented with a finely crafted eleiko-bar-shaped object to lift? Or is it more likely to be some awkwardly-shaped heavy bastard of a thing?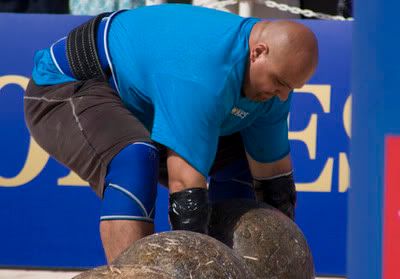 Try telling Laurence Shahlaei he should lift with his legs not his back
In a very technical sport such as olympic weightlifting, technique is vital in as much as it allows you to lift more. If you can't snatch properly you'll never snatch very much because there is a limit to the amount of weight you can get from the floor to overhead by just muscling it up there. If you don't have the technique in olympic weightlifting then you just miss…and miss… and miss…
But can great technique be an aim in itself? Maybe, if that's what turns you on. Maybe you want to have the most beautiful moves in the gym and you don't care how heavy the weight is.
But you also have to think about how you are applying the technique. Are you applying it with confidence? Are you diving under that bar with complete commitment? Or did you start lifting and think 'christ, that feels heavy!'
In other words, having perfect technique with a light weight may not mean jack shit once the weight gets challenging.
How much mental energy should you spend worrying about technique? What would happen if you stopped worrying about technique and put some more weight on the bar?
Many people seem to think that they are not 'ready' to add weight until they can perform a lift perfectly. It's a combination of fear of injury, fear of the weight and the desire to practice with something easy. I know these feelings all too well!
But adding more weight teaches too. Adding more weight can in some circumstances actively improve technique (a big heavy weight can force you into the correct position) and in other circumstances simply make you work harder to get it right.
With sub-maximal weights, you can sometimes make adjustments during the lift to compensate for deficiencies in the technique – for example, not having quite the right starting position, or not catching the weight in exactly the right place. With a maximum or very close to maximum weight, if you don't get it right, you'll probably fail the lift. So you'll know damn well when you do get it right.
There are some lifters who are known as good technicians. These are the jammy bastards whose technique is exactly the same, lift after lift, never really deteriorating (eventually the weight just gets too heavy). Realistically, most of us won't have this talent.
So as with most things in life, there is a balance to be struck. You probably don't want to end up on the wrong side of either opinion.
If you agonise about your technique, take some time out and just think about lifting more weight. Don't forget that all that time you are spending on perfecting your technique is time that you are not spending getting stronger.
Conversely, if you chase the numbers every day and you are just desperate to put an extra few kilos on your lifts, consider that taking time to work on your technique might actually improve your numbers in the long run.
For the vast majority of us, our technique could always be better but in strength sports, you don't get points for style. If we allow this thought to paralyse us, we may not make progress or get stronger.
So where do you stand on the technique debate?
More from gubernatrix
gubernatrix on squat technique
Paralysis by analysis
Mystery of the squat