Last weekend I had the pleasure of attending The Foundry's inaugural 'Heavy Weekend' training camp: two days in the country at a secret Oxfordshire location, chucking heavy things around with a bunch of like-minded people.
I've known the guys and girls at The Foundry for a while now. Based in the City of London, they have a bias – of which I wholly approve – towards resistance training for performance, health and body transformations. It is therefore very much in The Foundry's philosophy to develop a training camp around lifting, throwing, carrying and sprinting.
The Foundry has added some spice to the usual bootcamp format by getting specialist names in to coach the various skills, including Andy Titterell, pro rugby player and British Lion, Sarah Lindsay, 3-time winter Olympian, Evelyn Stevenson, national title winner in both powerlifting and olympic weightlifting and Sian Toal, Fitness England winner.
The programme ran the gamut of strength and conditioning training: on Saturday we had strongman circuits, powerlifting, touch rugby and some team competitions; on Sunday there was olympic weightlifting, speed and agility, and performance nutrition lectures.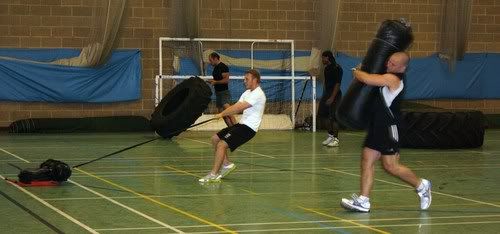 If nothing else, there was going to be about a week's worth of training packed into two days. Would we all survive?
How the weekend unfolded
Unfortunately I was only able to attend the Saturday as I was teaching my Ladies Who Lift class on Sunday. I wish I had been there to see what state everyone was in the next day! I was certainly rather sore when I did my own training on Sunday.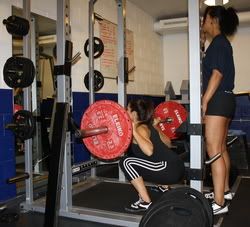 There were about 25 people attending; mostly men with a small number of women – perhaps five apart from me.
However, with more than half the coaching team being female, women were reasonably well represented.
We warmed up with a game of touch rugby out on the sports pitches. This was fast, furious and fun – a great ice breaker to start things off.
We then split into two groups – half of us went off to do strongman-style circuit training with Andy Titterell while the rest went to lift heavy barbells with Eve and Sian- and after lunch we swopped over. Free goody bags containing energy drinks, protein bars and other tasty snacks kept us going. The last event of the day was a team circuit which really got everyone's competitive hackles up. The final result was very close!
How it felt
The weekend was fun and intense. You needed to be quite 'up for it' to cope with the pace and the (at times) competitiveness.
For some this might have been a bit intimidating, but also potentially exhilarating. I saw many participants grow in confidence throughout the day as they realised what they were capable of.
It also helped that we divided into two groups for much of the day: an experienced group who were confident with all the skills (or thought they were!) and a less experienced group who hadn't been lifting for long and were less confident with all the techniques.
The techniques involved might be anything from being able to execute a deep front squat to knowing how to flip a tyre.
This allowed the coaching team to tailor the sessions to the experience level of the group and ensured that all participants had enjoyable and productive sessions.
Everyone I spoke to at the end of Saturday was stoked by the day and looking forward to day two.
While I headed back to London, the group was off for a well-deserved gourmet pub dinner and probably a sound night's sleep before starting all over again the next morning.
So is it for me?
What you get out of the weekend depends on your level of experience and what you are interested in.
It is possible to go in as a complete strength neophyte but I wouldn't recommend it. You need a bit of a strength base and some familiarity with basic lifting techniques to get the most out of it.
But if you have the basics, it's a chance to have a go at more complex or unusual events like strongman or olympic weightlifting, where the specific equipment and coaching expertise required mean that opportunities to try these out are limited. You won't find a yoke in your average gym. Or an internationally-capped rugby player, come to that.
The sessions act like a taster of a particular mode of training; they are a bit short to really master complex skills, but you can pick up some useful tips and try new things.
So if you want a total immersion in all things strength and conditioning and you are looking for a new challenge, this weekend is a great option.
Keep an eye on The Foundry's website to hear more about this and similar projects.