There's something magical about being able to chuck your own bodyweight or its equivalent around in a variety of ways!
It makes you feel strong, able, agile and athletic.
If you can push, pull and otherwise move your body around, you're self sufficient in movement.
So if you are looking for a goal or you just want to know how you compare to other people, try working your way through this list!
(See below for more on the rationale behind the list.)
Ten bodyweight goals for women
1. Bodyweight deadlift
2. Press up
3. Bodyweight squat
4. Bodyweight floor to overhead
5. Dip
6. Pull up
7. Bodyweight bench press
8. Handstand press up
9. Muscle up
10. Bodyweight strict press
More about this list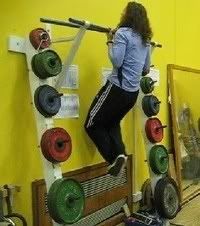 Movements that are performed with external weight such as a barbell are noted as 'bodyweight', e.g. bodyweight deadlift means a barbell loaded with the equivalent of your bodyweight.
Movements that are performed just with your own body, like a pull up, are just named as usual. These would be performed strictly in their full versions with no momentum, kipping etc.
The list is roughly in order of difficulty. Of course, you can argue variations, such as bodyweight bench press should come before pull up, but it's a rough guide. Your size, weight distribution, biomechanics, athletic background and training regime will hugely impact on what you achieve in what order.
The great thing about a bodyweight goal is that it is relative to you, not an arbitrary number.  You can more easily compare yourself to someone of a completely different size, introducing a bit of friendly competition.
There's a caveat to this: bodyweight goals are generally harder for heavier people. The upside is that if you are a heavier person and you achieve a bodyweight goal, you can be extra proud of yourself!
This list is also specific to women. A list for men would have many of the exercises in a different order, due to the different muscle mass distribution of a man.
Is the list achievable?
Well, I'm pretty sure that Samantha Briggs, top UK Crossfitter of Train Manchester can do them all, so yes, they are achievable.
The first five could, in my opinion, be achieved by most women during the first year or two of training, if you had access to a good trainer and a decent training facility.
The second five would take more work and focus. A couple of the movements are quite technical, such as floor to overhead (e.g. the clean and jerk or snatch) and the muscle up, and require specialist coaching.
I suspect that many women would be able to do all of these if they trained them consistently, but it doesn't always happen in the real world. I don't know many women who seriously train the strict press, for example. It doesn't seem to capture the imagination for women in the way that getting a pull up or a muscle up do.
To be fair, although it is good to do some shoulder pressing, there's some justification for not devoting your life to pressing your bodyweight if you're a woman, as it's not as useful for general health and fitness as, say, squats. However, if you fancy a challenge, I reckon far fewer women can press bodyweight than can muscle up. Just sayin'.
So what do you think of the list? Are you inspired to go out and work towards some of these goals? Would you change anything?
More from Gubernatrix